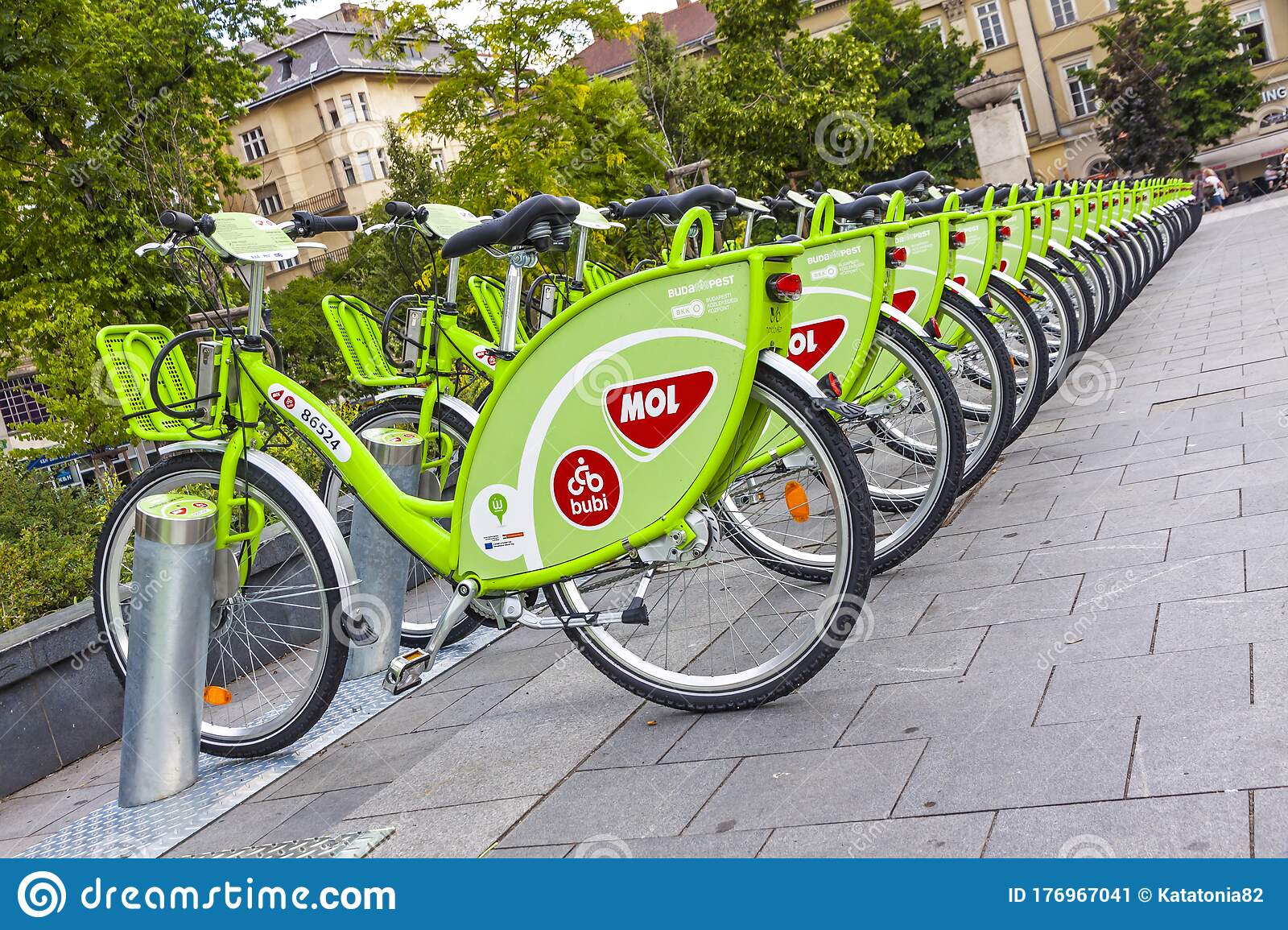 (This post is from 2015.)

A decade ago biking in Budapest was like an extreme sport that only the bravest would risk. Today thousands of people hop on their bicycles every day – or on a public bike, aka Bubi. Doesn't matter if you come for three days or six months, the easiest way to join the biking crowd is by using one of these green beauties. Let us tell you how!
How to register?
If you spend here a longer period as an exchange student or an expat, we recommend you to buy a card for a year or half a year. It is cheaper than buying a bike and you don't have to worry about a flat tire or stealing. For that you have to register at one of the BKK (Budapest Public Transport) offices and pay 12,000 HUF/12 months (with 5,000 HUF usage fee credit) or 8,000 HUF/6 months (with 3,000 HUF usage fee credit), and it is even cheaper if you have an annual BKK pass. It is especially a good offer considering that you can use up to 4 bikes at the same time, even in different parts of town, with a PIN code. The first 30 minutes are always for free, above that you have to pay – it gets exponentially more expensive with time.
In case you come only for a few days you can buy a 24-hour, a 72-hour or a weekly ticket for 500, 1,000 and 2,000 HUF accordingly. The first 30 minutes are for free in this case as well, but they take a 25,000 HUF deposit from your bank card for the overuse that you get back after 4-15 (!) banking days, and you can use up to 4 bikes with one ticket, but you have to pay the access fee and the deposit after each bike. To get these short-term tickets you don't have to go to their office, you just have to register online here and then use your phone number and pin at the bike station.
How to get a bike? 
Once you are registered you can use your card (for long-term passes only) or your pin code. If you have a card, just touch it to the rear end of the bike to the red sensor area and you are good to go. If you have a short-term ticket, put in your phone number and your pin in the numeric board on the rear end of the bike.
How to return a bike? 
Find a docking station and put it firmly into an empty docking stand, it will beep and lock the bike. If all the stands are occupied you can leave your bike at the extra stand which is green. Touch your Bubi card or enter your PIN on the bike, open the black rubber lock, fix it to the stand and press OK within 5 (!) seconds – otherwise it will still count the time as usage.
Are the bikes any good?
These bikes are heavy and a bit slow, but they are in very good condition, the gear and the brakes worked perfectly on all the bikes we tried. We found it very hard to bike uphill, so don't try to bike up to the Castle district or the Gellért hill with it, just leave it down at the dock station and walk up. You can leave the bikes at any station, it doesn't have to be the same where you got it. There are 76 stations all over the city, and we haven't seen yet an empty one, the team behind Bubi makes sure that there are enough bikes everywhere.
And the best part?
If you are ready to conquer Budapest by bike, you can try it on a Budapest 101 private tour – we have a card and we are not afraid of using it!