The vegan scene is rapidly growing in Budapest, and the vegan burgers are so good that even beef fans choose the meat-free versions from time to time. Though a burger is not the most traditional Hungarian dish (to experience that join us on a Vegan Food Tour), we know that sometimes it just feels good to dive into some "junk food" – and luckily there are many healthy and environment-friendly options now!
Check out our favourite vegan burger places in Budapest:
1. Vegan Love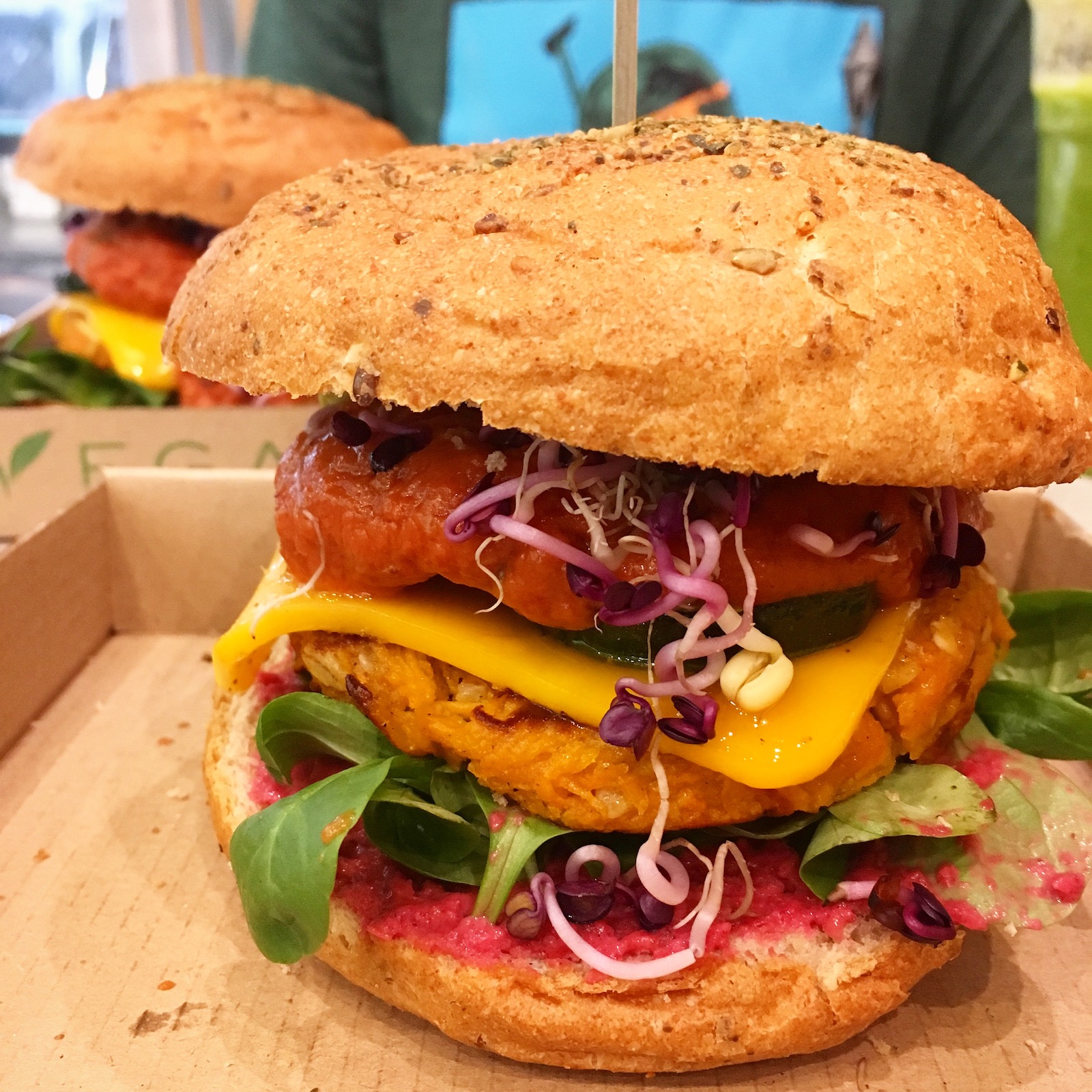 Visiting Vegan Love is a great excuse to discover the less known areas of Buda. It is located on the Bartók Béla street, a bohemian boulevard full of galleries and cute cafés, a favourite among local students and artists. The interior is as green as it gets, and with around a dozen seats it's always busy.
The menu features usually 8 burgers and 4 dogs or sandwiches. They like to experiment with new items, the newest addition is Teriyaki Tofu Sandwich. Our favourites? The Sweet Potato Burger and the Jucy Lucy. You can also have a vegan gyros or a (gluten-free!) vegan mac'n'cheese. And the fries are de-li-cious!
Location: 1114, Budapest, Bartók Béla street 9.
Open: every day 11 – 21
2. Tökmag

Tökmag literally means pumpkin seed, a local superfood in Hungary. This tiny place has a nice terrace when the weather is good – in winter all you have is a handful of seats and more guests do take-away. The menu is short, but it's okay, because even those few choices make the decision really hard. We always want to have all of them!
The signature garnish of Tökmag is the thin vegetable chips, you have to order it as extra, and in our experience one portion is plenty for two people. And if you are not in the burger-mood you can choose a soup or one of the daily dishes, which is often a kind of pasta.
The area is quite vegan-friendly by the way, Fill Good vegan bakery is just a few steps away.
Location: 1136, Budapest, Hollán Ernő street 5.
Open: every day 9 – 20
3. Matrjoska Kroshka
One of the newest additions to the vegetarian family is Matrjoska Kroshka. They are almost vegan, but occasionally they use honey, ask the staff about it if you want to avoid it.
The owner, heart and soul of this wonderful place is Natasha, a Russian lady living in Budapest. She had a legendary Russian bistro a few blocks from the current location, going there for many was like visiting family. As Natasha and her family became vegan she decided to close the restaurant. She talked about the reasons in a touching video, and ever since then everybody was hoping to see her again in the restaurant scene. A few months ago this became reality, Matrjoska Kroshka opened with amazing food and a beautiful design.
They have the most colourful dishes ever, but of course all the colours 100% come from veggies. The burger selection changes daily, you can choose from three types of buns and patties, everything made from scratch. And if you want to try the star of the house order the vegan pelmeni, this Russian stuffed pasta. You won't regret it!
Location: 1085, Budapest, Baross street 6.
Open: Tuesday – Saturday 10 – 16
So these are the best vegan burgers in Budapest in our opinion. All of them are full of flavour and a great alternative for non-vegans as well. In an ideal world we would change one thing though: we'd skip the single-use trays. Even if it's paper at each of these places, it still requires lots of resources to make it and transport it.
Of course there are even more amazing places in the city, let us know in the facebook comments what's your favourite vegan burger in Budapest. And for more vegan goodness follow the #budapest101vegantour hashtag on instagram!